The Rose Sex Toy Stimulator – Review of the Most Popular Women's Toy on Tik Tok
The rose toy is the latest and most popular women's toy that has been making rounds on social media. It first became popular through Tik Tok, where women have been using it to spice up their videos.
The rose toy is a versatile little device that can be used for both solo and couples play.
In this product review, we will take a look at some of the different online stores that sell the rose toy, as well as list its pros, cons, and all of its features!
The rose toy is available at a number of online stores, including Lovehoney, Adam and Eve, and SheVibe. It retails for around $30, which is a great price for all that this toy has to offer.
The rose toy is made from silicone and ABS plastic, which makes it both body-safe and easy to clean.
It features ten different vibration settings, as well as a rotating shaft that provides additional stimulation. The toy is also waterproof, so you can enjoy it in the bath or shower!
But more about this in the review. Let's get to it!
The Tik Tok – and the aftermath
If you've been on the spicy side of TikTok in the last month, you'll be familiar with the rose sex toy, a suction-based toy that has caused social media to go crazy.
Over 100,000 hashtags have been made around the rose toy alone.
One video – in which the uploader claims she arrived in 30 seconds using a rose – gained over six hundred thousand likes. "I don't need a man for anything anymore," one user says in her clip. "The rose is replacing men," adds another.
In a video, one TikToker demonstrated the rose sex toy's features, demonstrating her toy to be extremely loud while shouting "They said it was supposed to be soundproof!," with users chiming in that their rose does not sound like that and expressing worry over whether it is a low-quality or potentially even dangerous counterfeit. It sounds like a power drill, to be honest.
The rose sex toy has also been criticized for not living up to TikTok's expectations. "It isn't even delivering on what you said it would," one person sings in a video captioned "Me after purchasing the overhyped rose toy."
Other users said the gadget just gave up after a few uses and stopped charging.
Testing it out for myself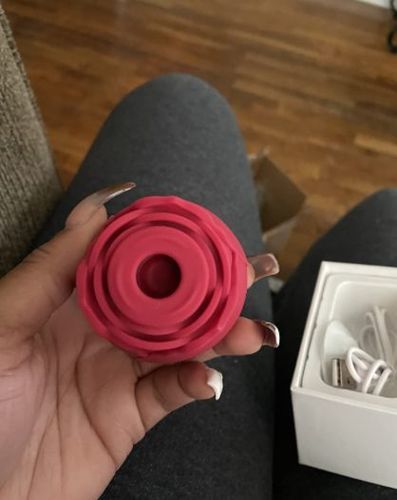 I was intrigued when I heard about the rose toy because I had never used a toy with a sucking function before.
I ordered it from Amazon and it arrived the next day.
The toy is made from hypoallergenic silicone and is waterproof.
It comes with a privacy-awarding silencing feature.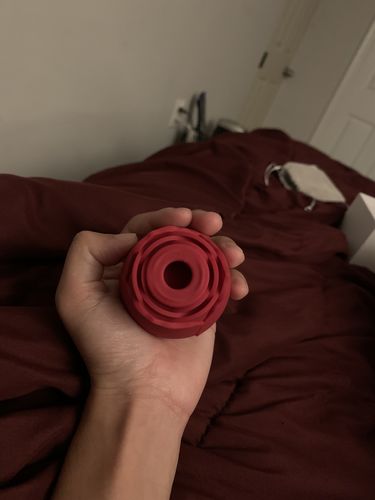 The rose is also discreet by nature. I tested it out on my nipples and found that it felt like I had someone there working on my sensitive parts.
I then tested out the rose's waterproof feature in the bath and found that I achieved an orgasm quicker than with most sex toys I've used in the past.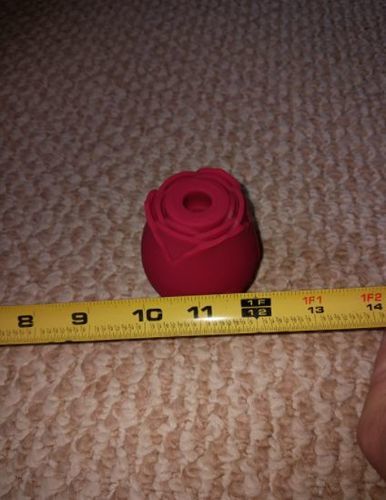 I took initial caution when I received the toy because it's a sex toy and I wasn't sure if it would work. Once it was fully charged, I carefully used the toy on my nipples just to see what the ten-point suction ability was really like. I have to admit, I was immediately blown away.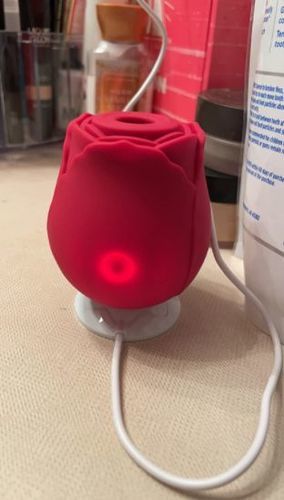 A simple easy-access button means you can go from one to ten swiftly, although you might want to bite down on a towel if you're going for ten straight away.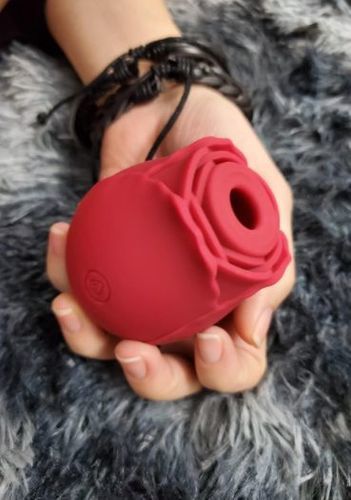 When I used the toy on my nipples with a bit of lube, it felt like someone was working on my sensitive parts. This made me realise how powerful the ten-point suction ability is. The pulsating suction felt like I was at the mercy of an oral genius and helped edge me closer to orgasm.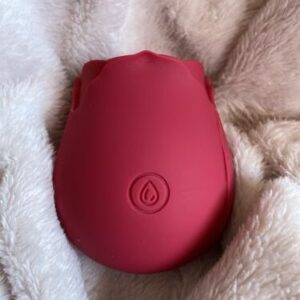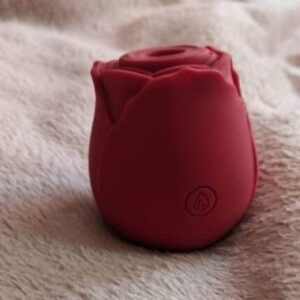 I'd have been happy with just its nipple-sucking function. But, in the name of truly trying and testing, it was time to use it on my clitoris as well. Adding some lube (my current favourite is this one) I set to work initially starting slow but building up speed quickly enough for me to reach orgams faster than any other sex toys or partners that I've tried.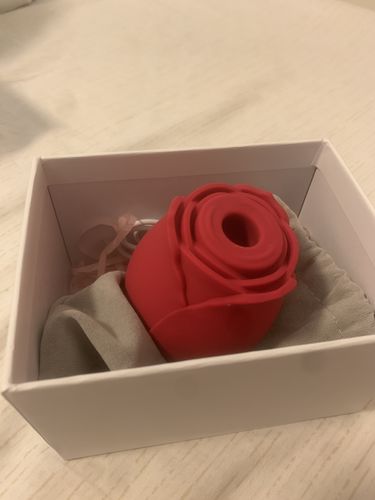 Pros:
The toy is made from hypoallergenic silicone, which makes it safe to use.
It comes with a privacy-awarding silencing feature.
The rose is also waterproof and makes for perfect bath time company.
Cons:
There are multiple different versions of the rose to go for on Amazon but I sifted for one with fast delivery and five star reviews. Knowing what I now know about dropshipping and the dangers of buying toys from China, I'd probably opt for a similar toy from a more well-known brand.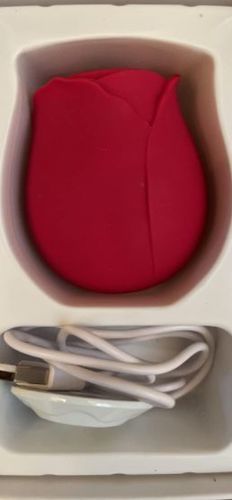 Features:
Air pulse technology
10 vibration modes
Simple easy access button – you can go from level one to ten swiftly!
Waterproof design
Convenient operation.
Its dimensions are: Length: 20cm, Width: 11cm
Depth(diameter): 15mm
Weight (in grams): 260g
Battery Capacity: 320mah
Working Time: up to 90 minutes
Charging time: 30 mins
Waterproof: Level IPX-67 (aka. Yes it's Waterproof like F**K)
Another version – with a toungue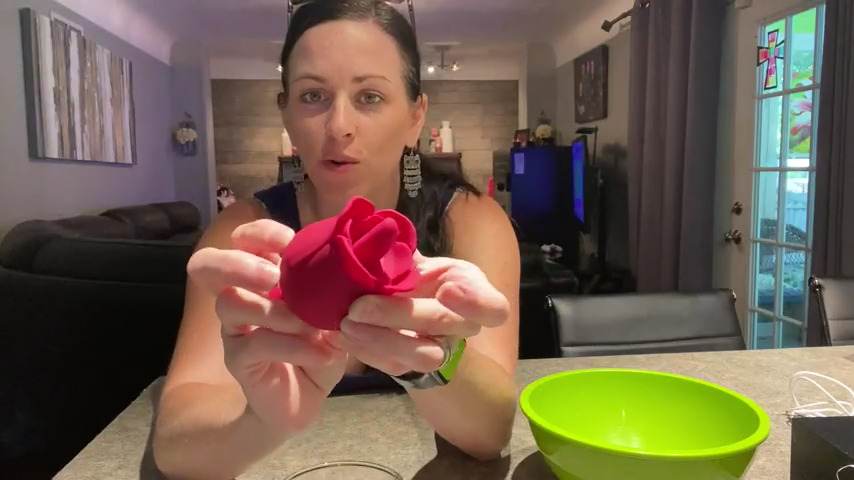 Reviews from others
Christina: My fiancé is into toys and she heard this from her sisters. She told me about it and I purchased it for her as a surprise. I'm glad she waited for me until she tried it out. All it took was 5 minutes with this toy and she had the room & house shaking with her moans and screaming. She even had to cover her mouth with a pillow cuz she had the big "O". We've been together for years and I've never seen or heard her like that before. I think I've been replaced by that damn 🌹. Damn you rose. Damn you!
Maria: oh. dear. god. i wasn't ready. i think i'm addicted. i gave myself the biggest o i've ever had in my life. i'm not joking. this rose had me rethinking all my life choices. i've been having flashbacks. this is amazing. 10/10 HIGHLY recommended‼️ definitely worth the price, and it came in within two days. i'm in love. 😍😍
Jaylin: Wow, this toy is awesome. It's lightweight and fits perfectly in your hand. The suction power and vibration is strong, it has a variety of settings. Great to use alone or with your partner for extra pleasure. This is a must have product!!
Leticia: When I open the box I thought to myself this is smaller then I expect but baby the power that comes from it is something else had my husband saying how is he suppose to compete with that lol but a heads up ladies DO NOT I repeat DO NOT let ur husband take control with it they don't know what that's enough is… but highly recommend to buy don't even think twice just get it lol and enjoy it very worth it
Alanna: This might be long LOL idk yet… this was my Mother's Day present from hubby… this thing is pure evil!!! DO NOT USE WHEN OTHER PEOPLE ARE HOME!!! This man has tried for years to get my body to squirt… and within seconds this thing had my body in shambles and puddles. Feels amazing but VERY intense… probably going to become one of our "torture" toys but definitely a must have for the red drawer.
Dania: First of all I'm one of those ppl tht jus cant 💦 easily. I had to play with it for a second to learn how to use it and move it on myself. Thts the 🔑 for y'all ladies tht don't like it, u have to move it around and find ur stroke. AND HUNTY WHEN I SAY I NEVA IN MY LIFE SQUIRTED AND DID FOR THE FIRST TIME 😳😅😅 I had to change the sheets before my bf walked in. Okay, It's time for bed because it won first place 🥇. Gn 😴
Taking you through the in's and out's
Do you want to enjoy yourself whenever and however you want? For all those women who have been ignoring their feelings in order to feel the natural desire, here is the Rose toy. The question is: What kind of Rose toy is this, and how can it help me?
So, let's go through all of those questions in depth with a brief Rose Toy review. The article will provide details on the product's features and why it is gaining a lot of buzz among women. Without further ado, let us begin.
The Rose Sex Toy Review
Here are the specifics of the toy and the distinct characteristics that set it apart from the competition.
Strong Suction
The Rose toy is extremely powerful thanks to its strong motors. There are ten distinct modes, allowing ladies to control the toy as necessary. With a touch of a finger, you may alter the speed at any time.
The Rose sex toy gives you the most ideal pleasure whenever you desire it the most, thanks to its various levels of thrusting speed.
Highly Compact and Portable
The size of this toy is tiny and compact. As a result, you may easily transport it in your luggage without having to make additional room, especially for this gadget. You may also take it with you everywhere since it's portable.
There's more! The design is adorable and doesn't resemble a toy in the slightest. As a result, it keeps privacy while remaining quiet in operation.
Ease Of Use
The product is simple to operate and has only one key. You don't have to deal with many keys. Anyone, though, can use it.
Quick to Charge
The rose toy is the ideal option for frequent users. It's excellent to use it back-to-back without having to wait days for it to recharge. Furthermore, once fully charged, it can operate for many days before requiring a recharge.
However, depending on how much you use it, the single charge might last anywhere from 3 to 6 hours.
Waterproof
The Rose Vibrator is a beautiful and functional. It's the ideal companion for going to the bathroom, since it's completely waterproof. It may also be used to make the rest of your day sparkle and stress-free while under the shower.
Soft
The Rose sex toy is made of Silicon and is softer to the touch. You won't have to worry about those harsh toys that cause discomfort and scars. Find enjoyment while still keeping yourself safe using the rose toy.
What is so special about the Rose Clit Sucker?
The Rose toy is a better option than other toys on the market for a variety of reasons. The first and most important advantage is that the device does not resemble a toy. It aids in maintaining discretion. This product, which helps to keep things private, is also available for females who want to keep their passion secret.
It's also quite successful. The various modes add to the experience and make it even better than reality. It is also quite quiet. As a result, whether you're feeling naughty wherever you are, you can still utilize it.
It's also waterproof, so you can take it in the shower with you and use it anywhere. It is made of silicone, which makes it completely safe for women to use. It's skin-friendly and prevents you from getting rashes or any other sort of problem.
There are many more reasons to buy this product. It is made of high-quality materials and has soft curves, which make it very comfortable to use. The head is designed to fit snugly and gently, giving you an amazing sensation. Above all, the device comes with a one-year warranty. As a result, you may contact the support team any time for questions or issues with your gadget. The customer care is highly dependable.
How Does It Work?
It's really easy to operate this toy, as previously said. You can long-press the button to turn it on or off with only one key operation. Once switched on, separate the labia slightly and firmly seal the C with Rose toys' suction head.
To switch modes, use the same power button to toggle between options. Simply tapping the key will change modes. After you've finished, simply long-press it to turn off the device.
Price
The price of this equipment is $50. Visit our website for fantastic reductions and getting the device at a far lower rate. When you buy the Rose toy from us, you may save a lot of money.
Nothing goes better with the rose toy than your favorite porn so, after you purchase it, lay back and enjoy the moment. MrPinks Porn Reviews has the best options already prepared for you so make sure you check them out.
Final conclusion:
The Rose Toy is a must-have for all the ladies out there. It's easy to carry and helps maintain privacy, making it the perfect sex toy for women. The device does not resemble a toy. It aids in maintaining discretion. This product also helps keep things private, so women can enjoy themselves without anyone knowing about it.
You now have an idea of what this amazing toy can do for you; now go out there and buy yourself one!
Rose Toy is rated as 4.8 / 5.