Vanilla or chocolate? No, we don't mean the ice-cream; we are talking about "the sex". If you are team chocolate, the entire BDSM community couldn't agree more. By the end of this article, you will be better informed on predicament bondage, how to practice it safely, and you will have new suggestions to try out with your partner. Let's jump in, shall we?
What Does The Term "Predicament Bondage" Mean?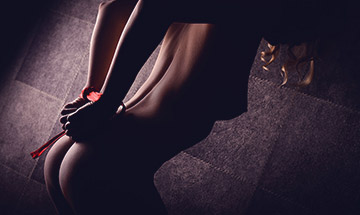 We can't talk about predicament bondage ideas without answering the question; What is predicament bondage? Simply put, predicament bondage is the "between the hammer and the anvil" of the BDSM world. The submissive is put in an uncomfortable predicament bondage position and can only seek relief in an equally or more uncomfortable position. The submissive is allowed only a limited amount of movements. None of the possible positions are comfortable or without a penalty attached.
What Does Predicament Bondage Entail?
Predicament bondage ideas get their appeal from the power exchange play it involves, and the possibility of complete surrender is also very alluring. Like BDSM itself, predicament bondage involves elements like pain, pleasure, power exchange, punishment, and humiliation. But unlike conventional bondage techniques, it provides the submissive with the element of choice.
Safety Tips For Predicament Bondage Practices
The world of kinks offers endless possibilities. You can experiment with different predicament bondage ideas as long as you and your partner agree. While exploring these endless possibilities, you must prioritize safety. Indulging in various dangerous kinks and using different props like fire, bondage ropes, and nipple clamps may be the fun. However, the resulting damage, if you are not careful, definitely isn't.
Before engaging in BDSM predicament bondage, it is important to discuss with your partner and ensure that they are psychologically prepared. Ensure that your submissive is medically and physically fit to avoid health complications. Setting up a predicament bondage situation is similar to drawing a building plan, never forget the emergency exit. Make sure you have at least one way to easily release your submissive if things go south, and always keep a pair of trauma shears close by.
Popular Predicament Bondage Suggestions

What does predicament bondage mean to you? To some, it's as simple as making their slaves balance a glass of water without spilling it even when their hands hurt to avoid punishment. To others who are into extreme predicament bondage, it's a more serious affair. The most common predicament BDSM situations involve the submissive having only two possible positions; one of them would cause muscle strain. The other involves serious pain to their nipples or genitals. Here are some predicament bondage ideas;
The Wooden Pony
This is an extreme predicament BDSM style that operates with the basic concept of letting your slave choose between muscle fatigue and having their genitalia support their entire body weight by being pressed against a wooden plank or a thin pole. It's a modification of the historical Japanese torture technique. It is mostly used for female predicament bondage, but you can experiment with your male slave as well! There are different variations, but the most common method is having the slave straddle the wooden structure while standing on their toes to avoid having to ride the pony!
CBT Predicament Bondage
Cock and ball predicament bondage is a very diverse BDSM practice, and it's a pretty interesting type of male predicament bondage. With just a parachute ball stretcher and a strap (leather or rope), you can put your slave in a predicament BDSM position where he would have to choose between standing on his tiptoes or enduring the pain of his scrotum being pulled painfully. You can also play around with your female sub-bounding her in such a way that the ropes would pass through her labia and stimulate her if she wriggles around. Remember to be careful.
Nipple Clamp Predicament Bondage
If we are being honest, nipple clamps are the real MVP's. You can use them to set up a thousand and one different predicament bondage positions for your slave. For example, you can attach nipple clamps to your slave's nipples and then fasten them to the wall creating a scenario where she is okay if she is standing on her toes, but if she drops her feet, her nipples will be pulled painfully. You can experiment with your male sub using a nipple clamp that has a cock ring attached.
Predicament Bondage With Leg Spreader Bar

One of the best bondage restraints is the spreader bar. You can have your slave lie on their back, secure their feet with ankle cuffs, and a spreader bar. Secure their nipples with the nipple clamps and attach the clamps to the spreader bar using a rope. Thus, shorten the rope, creating a situation where the only way to prevent the clamps from painfully tugging their nipples is to keep their legs bent.
Predicament Bondage: No BDSM Props
The goal of every BDSM predicament bondage idea is to put your slave in a situation where they have to pick the lesser of two evils for your viewing pleasure. This can be achieved without the use of BDSM props. You can have your slave balance a cup of hot cocoa that would spill on them if they moved and then encourage them to move by teasing, spanking, or tickling; leaving the submissive to choose between being scalded or enduring the sweet torment. Sounds fun, right?
Predicament bondage is very pleasurable and fulfilling for both partners if practiced correctly, considering all safety precautions and using quality products. For quality products suggestions and reviews as well as more information about the chocolate sex lifestyle and the usage of the gears involved, visit mytoyforjoy.com.
Have you tried out predicament BDSM? Do you have any suggestions for other members of the BDSM community? Please tell us in the comment section.